DFES JULY THEME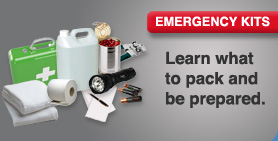 HOUSEHOLD EMERGENCY KITS
Western Australia (WA) is a vast state with a wonderful climate and lifestyle.
However, natural hazards such as bushfire, storm, cyclone and flood are an inevitable part of our WA landscape.
Natural hazards can be swift and unpredictable often impacting the community with devastating consequences.
Having an emergency kit is an important step to prepare and protect your household for unforeseen events.
Domestic pets need to be prepared for emergencies too. If you are a pet owner consider having a plan for you pets too and prepare a pet emergency kit.
Download & Read Your Emergency Kit Facts Sheet - HERE